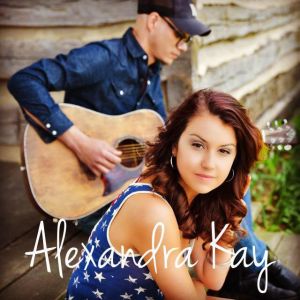 Despite what you may have seen and heard, Country vocalist and Internet phenomenon Alexandra Kay is NOT an overnight sensation. With 30+ million plays collectively of her videos in a 60 day period she has generated a lot of excitement among fans and in the music community, but many incorrect assumptions have been made about this beautiful brunette chanteuse.
The social media darling, Alexandra is currently recording 10 music tracks in Saint Louis and Nashville. A mix of five country classics and five brand new songs, the music is anxiously awaited by her millions of fans.
Born in 1991 and growing up about 40 minutes from St. Louis in Waterloo, Illinois, Alexandra has two sisters, one older and one younger.
At 15 she began writing songs as a way to cope with being a teenager, relationships with friends and dating. "I kept the songs to myself mostly. I'd let a few friends hear them. "
Like her sisters, Alex was athletic and a standout at softball. "I grew up surrounded by athleticism. I enjoyed playing softball, just as my sisters had, a commonality that we shared. All three sisters had college scholarships for softball offered to them.
"I was sort of the black sheep for a while," Alex noted, "my parents wanted to me go to college and softball offered me that opportunity, but I couldn't play college softball and take the classes in performance and music I wanted at the same time."
Alexandra got her start as a "performer" in musical theater. She worked eight years as a performer, acquiring an agent and doing voice overs, indie films, music videos and commercials for brands like Converse, before being accepted at the New York Film Academy. It was during this period that she was also offered a scholarship for softball. After a lot of soul searching she made the choice not to continue her theatrical pursuits, nor softball, as she had decided to focus on music.
"It was kind of a leap of faith for me, I play a little guitar and keyboard but not well," she noted. "I'm taking guitar lessons, and that helps me in my songwriting."
In 2011 Alexandra entered the American Idol contest, getting through the first three rounds before leaving the show.
Country music has always been her chosen genre, but frustrated by the lack of county music opportunities in Saint Louis, Alexandra signed with an indie label that was focused on pop, R&B and hip hop. "I spent a lot of time working with rappers, writing and singing the "hooks" for their songs."
"St. Louis has a lot of very talented rappers, including Nelly, who I spent some time in the studio with. I made a lot of friends in R&B and hip hop hat continue to this day." Alexandra was sure she wanted to be in country music, but her label's vision was that she should be a pop or R&B artist.
In 2013 the label released a single and video of Alexandra singing "No More". The song was a radio hit, spending three weeks at #1 on the New Music Weekly Top 40 pop chart, also scoring at the top of Hot AC and Hot 100 charts. The music video to "No More" has been played over 500,000 times. During this period she opened for Machine Gun Kelly in concert.
Alexandra's second single "Never Leave" debuted to strong reviews in early 2014. She released a video of "Never Leave" shortly thereafter.
Frustrated that the label was pulling her further and further away from country music she left in 2014. "They wouldn't let me focus on my own music, so I had to leave."
Alex had already turned her song writing skills to country music early in 2014. "I've always felt that music, especially country music, has been a blessing in my life. Country music has a strong emphasis on the lyrics. That's what people relate to, that tears your heart up, or makes it soar. That's what drew me to country music in the beginning and it's very important in the songs I choose."
Starting her country music career independently at 22, Alexandra began recording cover videos of many country music favorites and posting them on her Facebook fan page which has nearly 200,000 followers to date. Her videos are often viewed by hundreds of thousands of people every week, including 3.6 million for her cover of Tim McGraw's "If You're Reading This" and 11.5 million views on her cover of Dolly Parton's "Jolene". Her newest song, an independently released acoustic version of "Better than Goodbye" was recently released to rave reviews. It has garnered 200,000 plays internationally on video.
In 2015 St. Louis country radio station 93.7 The Bull held a contest to select a local performer to open for their Concert in the Corn. Contestants entered by sending a video to the station, and the best videos were put up on the station web site. Alexandra won by a landslide, according to station personnel. After winning the contest, on November 7th 2015 Alexandra performed, opening for country stars Broseph E Lee, A Thousand Horses and Thompson Square. Alexandra's performance was given rave reviews and talked about on the radio for weeks after. 
Mid 2016 Alexandra signed with management company, Million Dollar Artists to manage her career, develop her talents and release songs on their artist funded label, American Eagle Recordings.
"Signing with Million Dollar Artists has been a big step for me. Their artist funded label, American Eagle Recordings has released five country albums, all of which had hits on the national country charts." noted Alexandra.
Alexandra's passion for country music has been growing from a very early age. She has already shown the world she can accumulate millions of fans. She stands ready to make her mark in radio and national touring.
With near perfect pitch vocals and a powerful and distinctive delivery Alexandra has captivated audiences throughout the world with her videos. Drawing large crowds everywhere she performs, Alexandra has proven that she can turn social media recognition into an adoring fan base.
Alexandra's influences include Martina McBride, Jo Dee Messina, Sara Evans, Garth Brooks and Michael Jackson.
Charles "Max" Million, President of Million Dollar Artists, stated, "Over my many years in the business I have heard a lot of new artists and music giants. Alexandra is natural born vocal talent, and a distinctive voice coupled with a true, honest and sincere personality that connects with her fans in a way that astounds me. And her determination and drive makes her an artist destined for the top. At 69, I was ready to retire from the industry until I was swept away by Alexandra."
Alex is a strong believer that every fan is incredibly important and prides herself on maintaining true to her musical roots and fans.