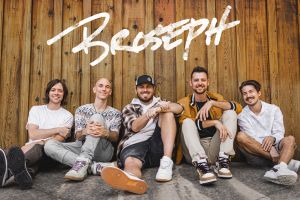 This is a full-blown country-rock concert. That's how fans describe a night with Broseph. These musicians raise the bar high and bring a party with every song. They're wildly talented, energetic and thrive on entertaining crowds of all ages. 
Band frontman Brock Jones satisfies both current and classic country music fans with hits from Jason Aldean, John Michael Montgomery, Garth Brooks, Zac Brown Band, and more. Their repertoire of medleys and sing-a-longs shows the originality that separates this band from all the others. Every show includes rock ballads and pop hits spanning from the 80's to today. 
With their 2012 EP and recently released single "18", Broseph's original sound has been well-received, landing opening acts with some of the top names in country music. They are the proud winners of the "93.7 The Bull, St. Louis" - Concert in the Corn - Battle of the Bands 2014. This band takes pride in showcasing their own music and is committed to songwriting that captivates a crowd- ranging from heartfelt to honky tonk.
Broseph is making their mark on the country/rock music scene. Every time they take the stage, the six artists that make up the band deliver professionalism, showmanship and a boot-stomping good time you won't forget!